PROPOSAL PACKAGES
8 SENTOSA GATEWAY, SENTOSA ISLAND, SINGAPORE 098269
+65 9350 7475 / +65 6863 9585
PROPOSAL PACKAGES SINGAPORE
TRAVELERS CHOICE 2020-2022★★★★★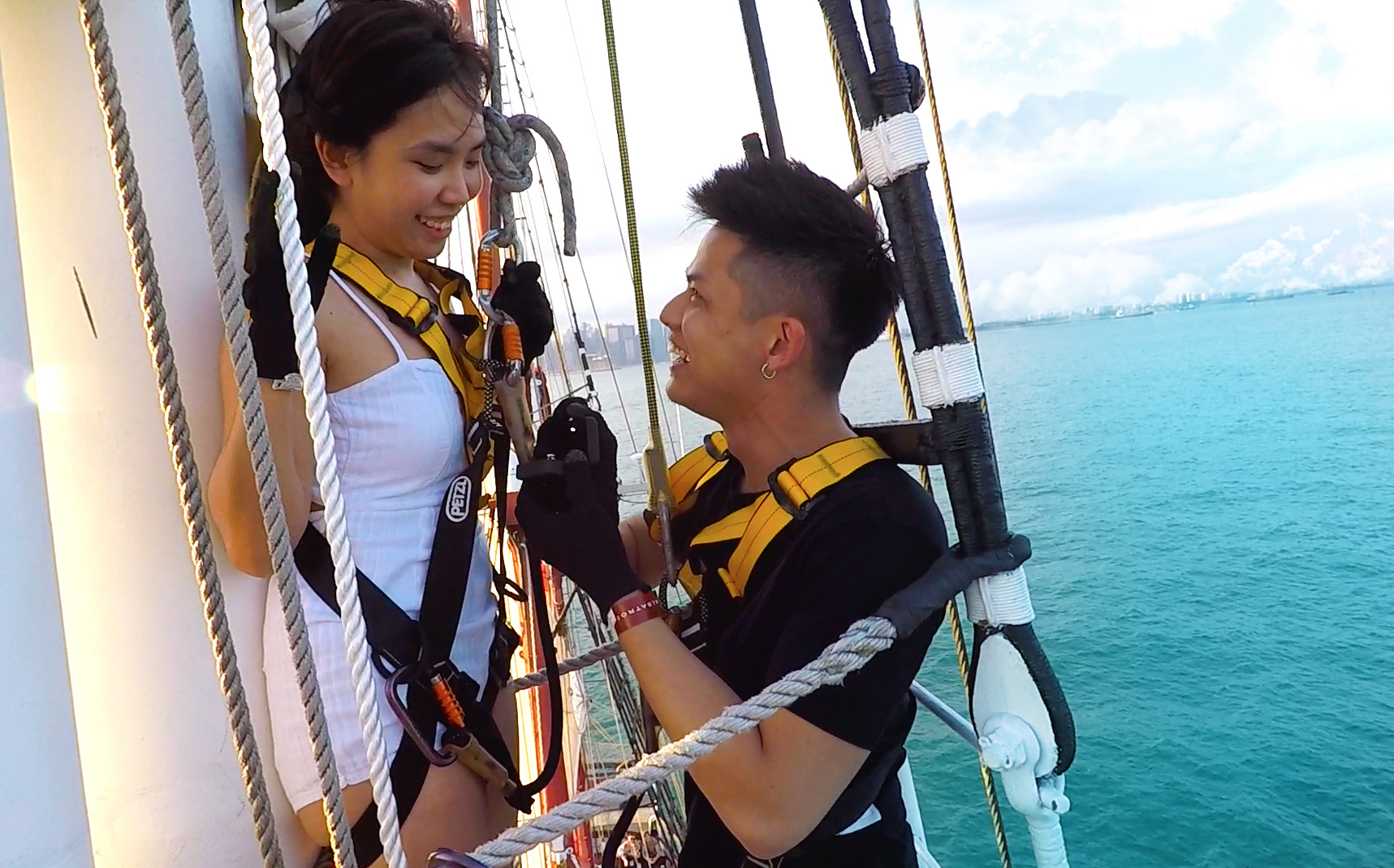 There isn't anything quite as magical as being on a tall ship with its majestic views, romantic ambiance, and belonging to a golden era right out of a storybook. At the Royal Albatross, we have witnessed many successful and beautiful proposals, teary-eyed brides to be, and some very nervous fiancés. Rest assured we are experienced enough to pull out all the stops when it comes to getting to those two magical words "I do". We have a collection of the most spectacular and unique marriage proposal packages available; and to not give them all away, we also have some secret ones hidden up our sleeves. 😉
If you are looking for something truly special, unique, and meaningful, simply give us a call and take a moment with us while we sweep your special someone off their feet. A moment you will definitely remember and be proud of for many years to come.
Proposal Ideas Singapore
Here, you will find surprise proposal ideas that are not only unique in our region but are not available anywhere else in the world from what we know. So be among the first to experience the thrill, the romance, and the adventure that comes with proposing onboard a Luxury Tall Ship and start your new life journey on our romantic Sunset Sail dinner cruise.
Using the backdrop of the straits of Singapore and the white sails above, you will have the perfect opportunity to pop the question. With a romantic ambiance onboard our Sunset Sail, you can make it one memorable moment for the both of you as you take your romance to the next level.

Terms and Conditions
*Bouquet of 50/100 Roses will require 7 days advance notice.
All flower inclusive packages require 48hr advance notice.
Photography and videography are not included in the package. Arrangements have to be made by the customer if professional visual media is needed. Unless otherwise stated.
Tickets are changeable, transferable, valid for 6 months, non-refundable and the product is subject to change without notice.
See Full Terms & Conditions and FAQ for Sunset Sail, Dinner Cruise, and other Special Cruise.
For more information about the stability of the Royal Albatross and why it's unlikely you'll experience seasickness, please view our video HERE.
All prices are subject to 10% Service Charge + GST at the prevailing rate.
If you'd like a private proposal venue while sailing or dockside, be sure to email us to speak to our representatives.