Three Unique Gifts To Get Your Sea-Loving Loved Ones This Christmas
Trying hard to get that perfect gift for your special someone this Christmas? Is your significant other or friend pestering you to go island hopping, or maybe is it too late to get a ticket out of the country for a dive trip? Don't fret, here are some interesting gifts for those who seek that little adventure in their lives and looking to spend a little time together this season.
Island Hopping to 7 Destinations Without a Passport
Schedule a secret treasure hunt based on landmarks across the 7 different islands around Singapore. For a little over $560 per person, you can plan the perfect treasure hunt or dive trip with your own picnic on coney island, Pulau Ubin, Kusu Island, Lazarus Island, St. John's Island, Pulau Hantu, ending with the Sister's island marine park; a perfect place for spotting seafans and seawhips along the dive trail. The best part about it is that your special someone will never expect such a gift.
Plan your trip with this guide.
A Dinner Cruise along Sentosa on Asia's only Tall ship.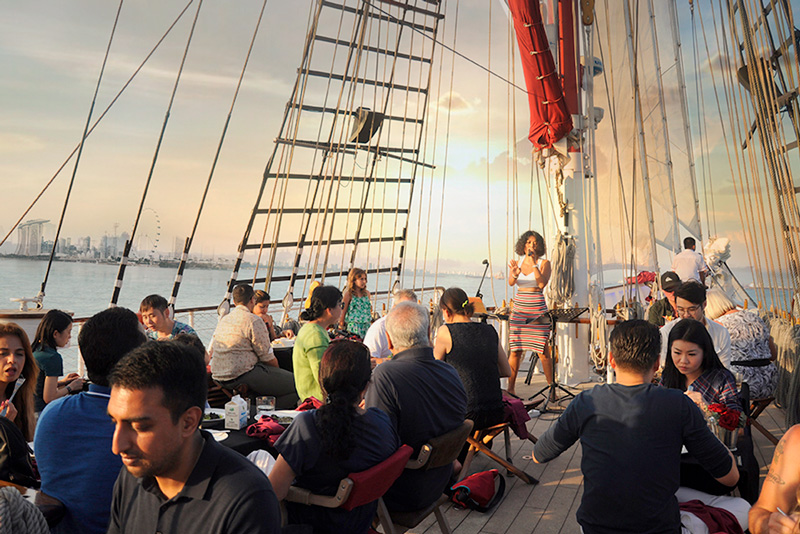 Go sailing across the Sentosa coastline onboard the Royal Albatross a 4 mast 22 sail luxury tall ship. Choose between the sunset cruise where you get to view the setting sun or coast past the CBD and get to see the city lights on the city lights tour which ends with a nice display of fireworks. Did we mention that the ship is the only traditionally rigged tall ship in Asia and that a 3-course dinner is included in the $195+ per person package? Enjoy and be romanced with our special Christmas themed packages.
Find out the sailing schedule here.
Go Wakeboarding in Singapore
For the thrill-seeker and adrenaline junkie and those who prefer to get out of their comfort zone you can try your hand at going wakeboarding. For $120/hour you will get a personal coach and all the equipment required to have the time of your life. Beware it's definitely not for the faint of heart.
Find out more about water sports in Singapore.
If all you want is a nice dinner and a cruise down the Sentosa coast while watching the sunset, without all the other excitement and planning. You could always check the availability on our Royal Albatross Christmas themed party right here.