–
Looking for a romantic getaway that is both unique and special? Look no further than Singapore's Royal Albatross, the perfect spot for couples to enjoy ultimate luxury dining. Located right on the water and conveniently situated outside Sea Aquarium, Royal Albatross offers up delicious international cuisine with breathtaking views of Singapore skyline. Whether you're searching for an intimate evening out or just want to surprise your loved one, this restaurant has something special that will make it a memorable experience.
Menu and Dining Experience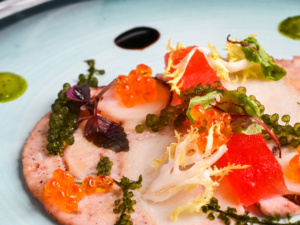 The Royal Albatross is a unique and romantic dinner experience located in Singapore. Set on the deck of a majestic sailing vessel, it offers guests an unforgettable evening of culinary delights and spectacular views. Enjoy the gentle breeze as you cruise around Singapore's iconic skyline, taking in its stunning sights from the comfort of your own table! The Royal Albatross also features live musical performances throughout the night that create an enchanting atmosphere for all to enjoy.
The menu at The Royal Albatross is carefully crafted by Raphael Chua who make use of fresh local ingredients to create delicious dishes with international flair. Start off your evening with some canapés with early boarding before indulging in mains like classic seafood bouillabaisse. End your meal on a sweet note with desserts like apple crumble vanilla ice cream – sure to please even the most discerning palates! With so much on offer, it's no wonder that The Royal Albatross has become one of Singapore's top dinner spots for both locals and tourists alike. Click here to view our menu
Celebration and Proposals

Royal Albatross is the place to go for romantic dinners and a luxury experience in Singapore. The perfect venue for couples looking to celebrate an anniversary, birthday, or just to enjoy a romantic date night with their significant other. With its unique ambiance and setting, guests can immerse themselves in both luxury and romance as they dine with breathtaking views of the surrounding harbor. From first-class service to mouthwatering meals created by Raphael Chua, Royal Albatross makes it possible to enjoy a truly romantic dinner together in Singapore.
The Royal Albatross offers several packages to choose from when planning your special occasion. From private charters to exclusive events, you can select the package that best suits your needs and budget. The experienced crew will take care of all the details including catering services, entertainment options and decorations so you can enjoy a stress-free event without worrying about any last minute preparations. Whether it's a romantic dinner for two or an extravagant gathering of family and friends – whatever the occasion – our team is dedicated to making sure every detail is taken care of so that everyone has an enjoyable experience aboard this grand sailing vessel.
Conclusion
All in all, the royal albatross tall ship is the best dining cruise in Singapore. Not only does it have a stunning atmosphere and amazing views, but also excellent service and exceptional food! Be sure to explore the deck and take plenty of photos during the evening or day cruise. Plus, you'll get to relax with a few drinks and enjoy some live entertainment along the way. A luxurious experience like this is not one to be missed! So, what are you waiting for? Book your tickets now and embark on an unforgettable journey aboard the Royal Albatross Tall Ship – and experience Singapore's stunning skyline up close.