SET SAIL ON THE ROYAL ALBATROSS
BY RWSCOOPER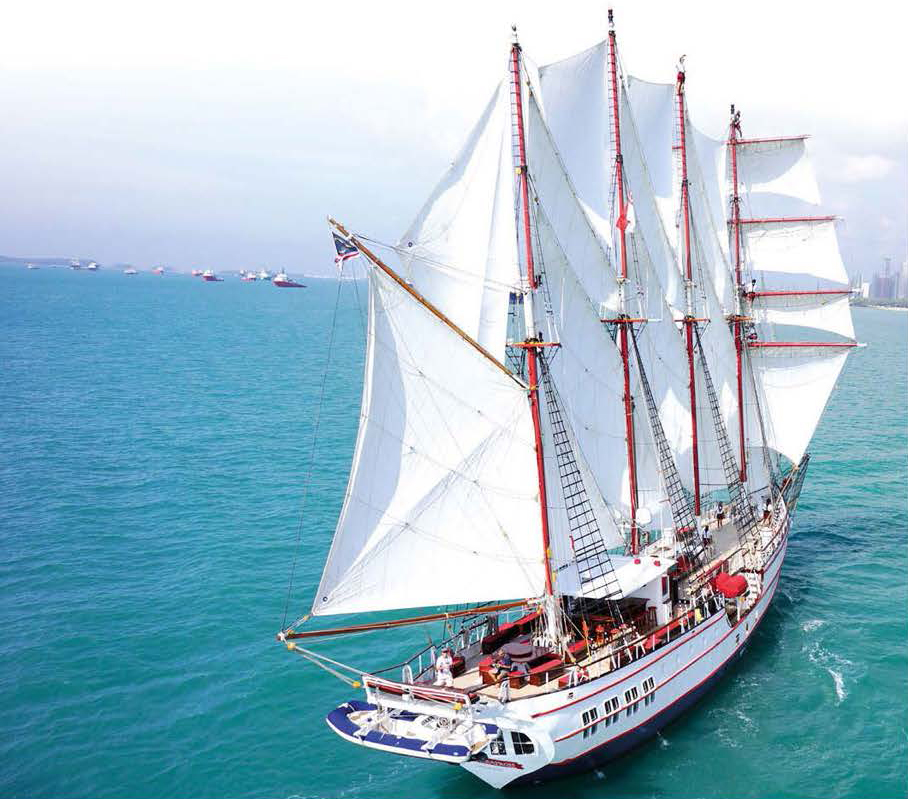 If you've harboured fantasies of sailing into the sunset in grandeur, the Royal Albatross is just your ticket. The ship is currently docked next to the Historic Ship Harbour, on the pathway between S.E.A. Aquarium and Adventure Cove Waterpark.
Known as a Barquentine Tall Ship, the 47m super yacht boasts 22 sails and four masts. With all her sails unfurled, she is certainly a sight to behold.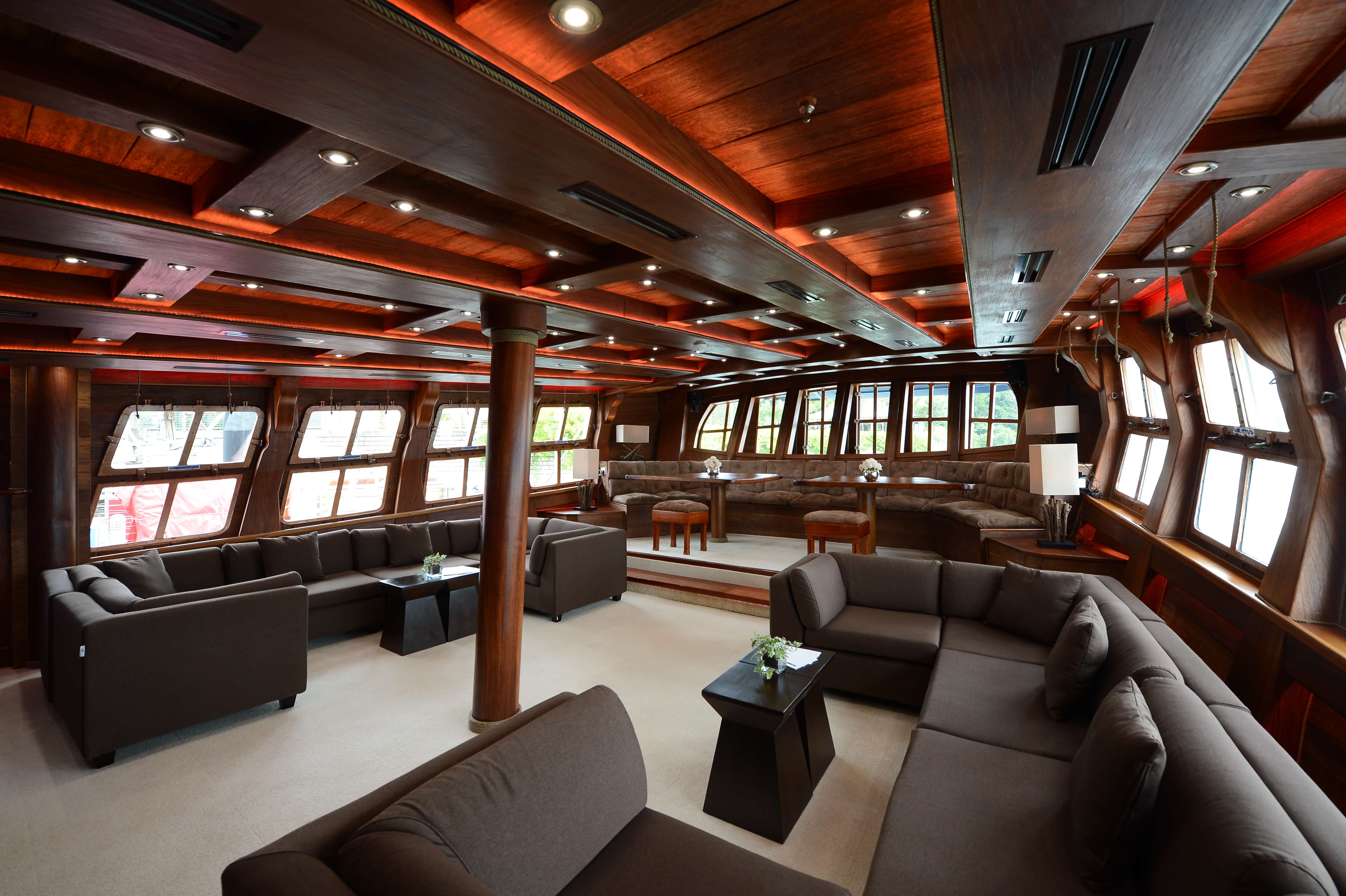 Inside, she is equally impressive with furnishings fit for a king. There are two bars including a 270°-view grand saloon, extensive open upper decks with retractable canopies, a restaurant-grade galley, three stages and five spacious and comfortable en suite cabins that can sleep up to 10 guests.
As Asia's only luxury four-masted Tall Ship offering, the Royal Albatross has a much greater day-sailing capacity than typical super yachts, offering larger groups an opulent maritime experience.
Working with likeminded catering and event partners, she serves as a unique venue for weddings, photo shoots, food and wine tastings, product launches, festive parties, VIP corporate events, workshops and cocktails. She's also the perfect setting for pirate-themed parties with the crew getting in on the act dressed in pirate-inspired costumes.
One of the best ways to experience her splendour is through an alongside charter, meaning that she can be docked at the berth during the event, so more than 200 guests have the flexibility to arrive or depart at will.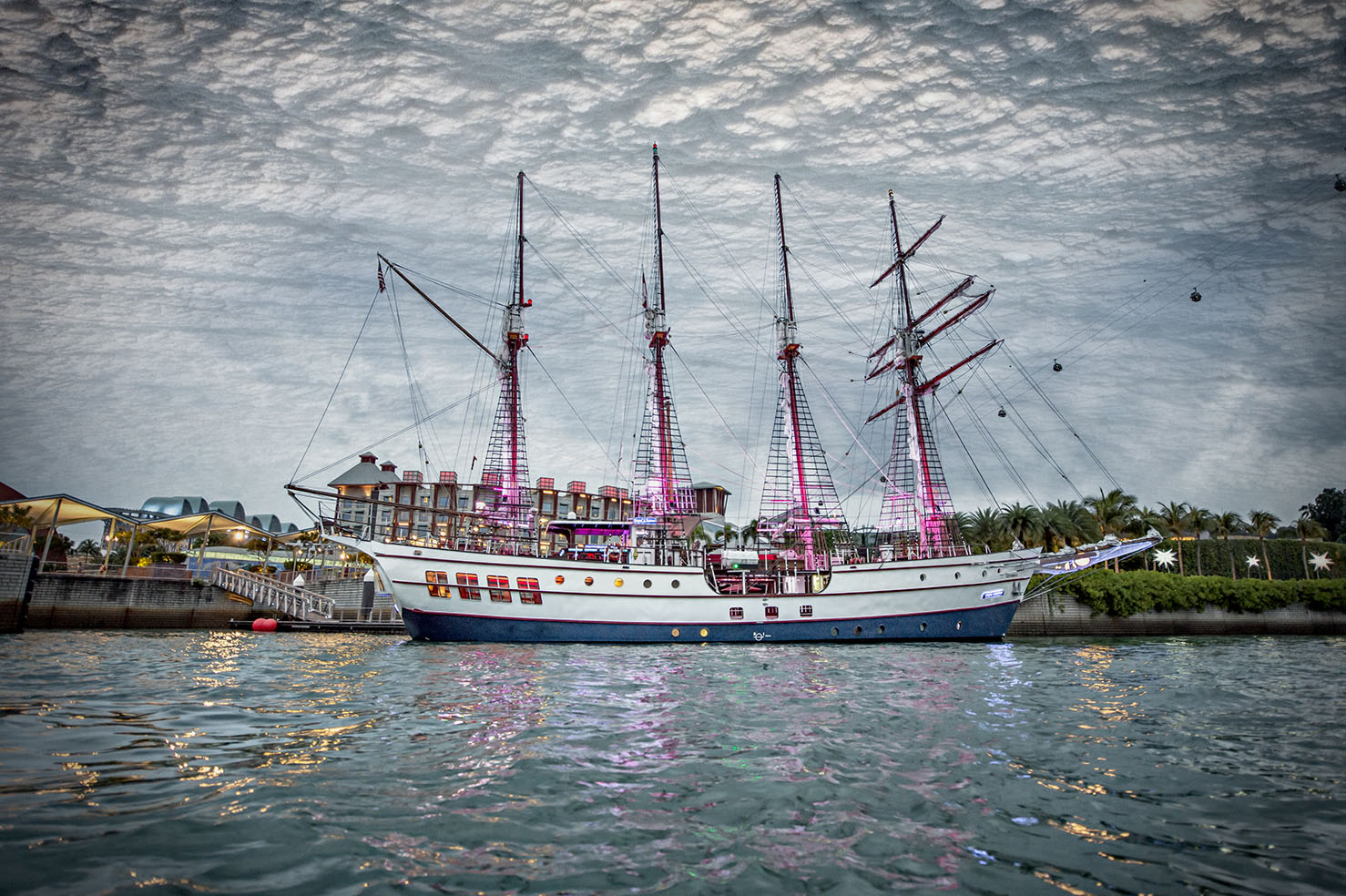 She can also travel in advance to a preferred location in Southeast Asia, making for a private and truly special luxury ocean-faring event.
Those who prefer to be closer to home can sail around the islands south of Sentosa, enjoying canapés and a live band as the sun sets over calm tropical waters.
While the Royal Albatross is not open for walk-in visits, there are plans afoot to launch activities for the public and the younger generation to get actively involved. Her operator Tall Ship Adventures Pte Ltd. provides free scholarships for ITE students to be certified as crew under the internationally recognised Royal Yachting Association (RYA) training programme.
For those contemplating a "different" event or a sexy weekend jaunt, the Royal Albatross offers the old-world romance of travel and luxury on the high seas – and a truly unique and memorable experience.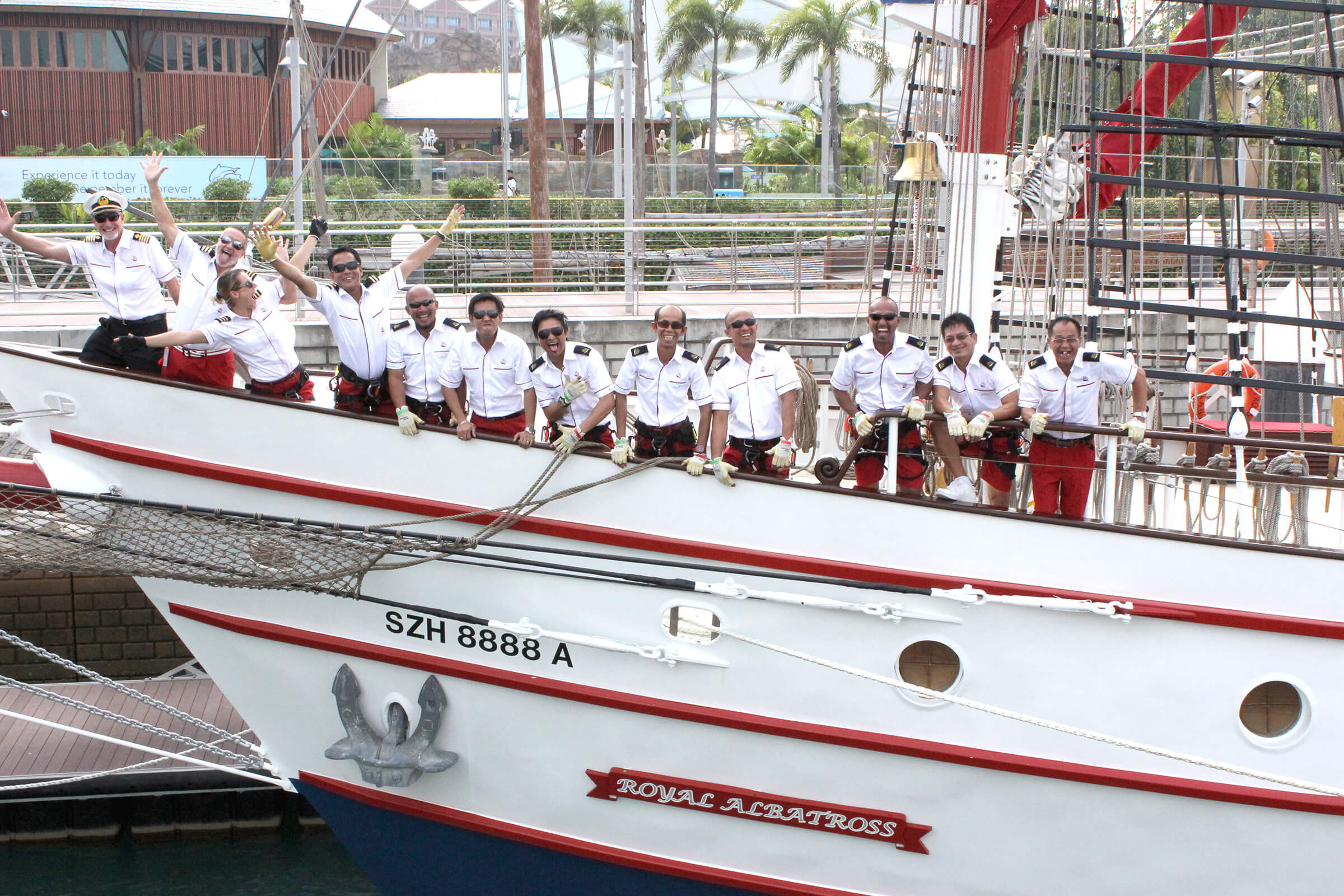 Learning the ropes
Royal Albatross has 22 sails that the crew unfurl by climbing aloft and
pulling on 200 ropes
Rig-climbing(https://staging.tallship.com.sg/rig-climbing/) is not for the fainthearted.
It requires skill, deftness, physical 􀃖tness and lots of con􀃖dence
to deploy the sails at sea!
During rig-climbing, the crew wear high-tech harnesses to keep them
secure as they work up to 28m above the deck.
Guests looking for an extra challenge can also try their hand at rigclimbing
under the careful supervision of the crew.
Rig-climbing makes for a great team-building exercise for corporate
groups seeking a thrilling activity to engage staff and foster team spirit.
For more information on the Royal Albatross, visit
www.tallship.com.sg(https://staging.tallship.com.sg/)
This article was first published in Invites Magazine April
2015(https://rwsinvites.rwsentosa.com/portals/0/RWS/Invites%20Magazine/Apr%202015/index.html?
pn=10).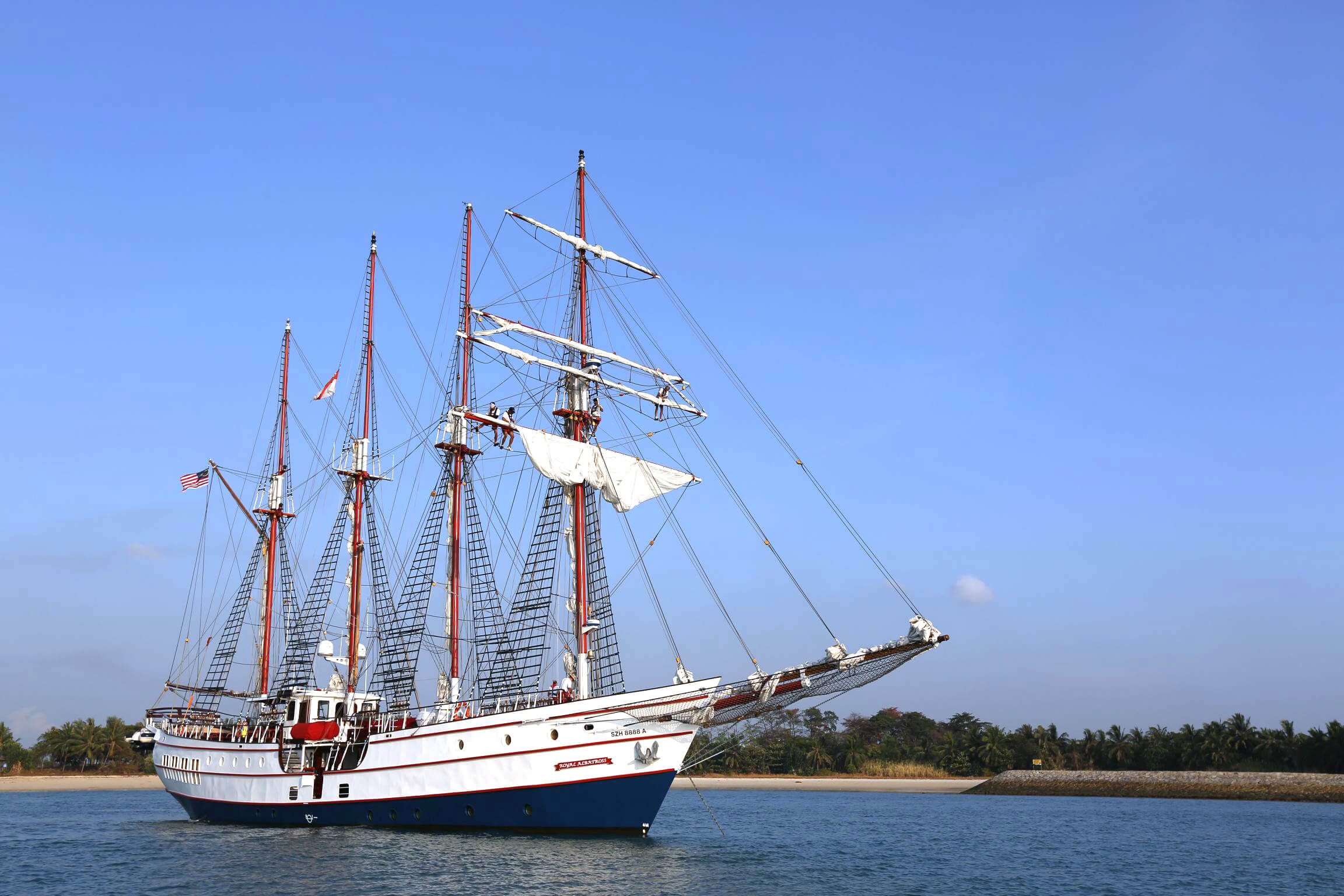 New sunset cruise available for public booking [23 Sep 2016 update]
You can now go on board Singapore's only Tall Ship cruise for an unforgettable sunset sail along Singapore's coastline.
The 2.5-hour trip starts at 6pm and returns at nightfall. On the cruise, you can watch the natural beauty of the setting sun and the transformation of Singapore skyline from day to a glittering city at night.
The Sunset Sails are on Friday, Saturday and Sundays with the first sail launching on 14 October. You'll enjoy a BBQ dinner and a welcome drink on board.
Tickets are priced at $195 for adults and $145 for children aged 12 and below.
Book a slot on Royal Albatross's website(https://staging.tallship.com.sg/events/sunset-sail/).