2 HOURS ON BOARD THE ROYAL ALBATROSS FOR ITS SUNSET SAIL
by Jane
October 27, 2016
When I heard I'll be going on a sunset sail on 'Batman's private yacht', the first things that came to mind were champagne under the pink of dusk followed by starlit dinner and smooth saxophone jazz.
I was spot on about what awaited me onboard the Royal Albatross – the same tall ship featured in the 2008 Batman movie, The Dark Knight, as the private yacht of Batman's alter ego, Bruce Wayne.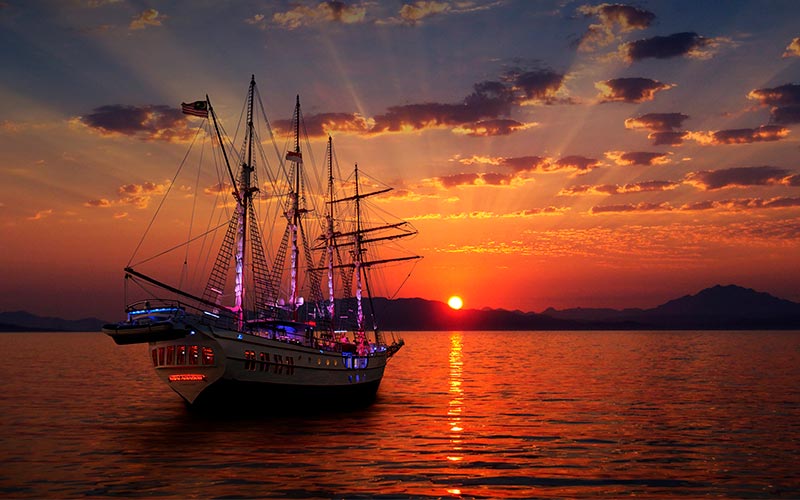 The Royal Albatross is Singapore's only luxury tall ship cruise.
That's not the only 'star factor' about the Royal Albatross. Turns out, the sails and rigging were the work of master rigger Jim Barry, who was responsible for the ships in the Pirates Of The Caribbean movies.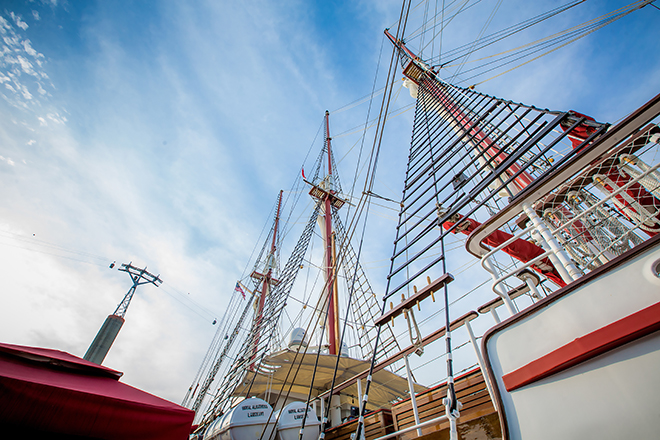 This 4-masted 22 sail tall ship has a large sailing capacity of 149 guests. It can also be chartered for private events such as birthdays, wedding anniversaries, bachelorette/stag parties, Dinner & Dance and product launches.
Filled with the heady anticipation of a movie buff, I kicked off my shoes (literally) and stepped on board. Shoes are not allowed on the ship as they may damage the external decks made from a special marine cork. Just store them in the shoe cabinet at the docking area and you'll receive a number tag to retrieve them when you disembark. Going shoe-less was surprisingly liberating. For the ladies, it also means you won't have to worry about maintaining your poise and balance in heels when the waves get a little rough, especially along the Buran Channel.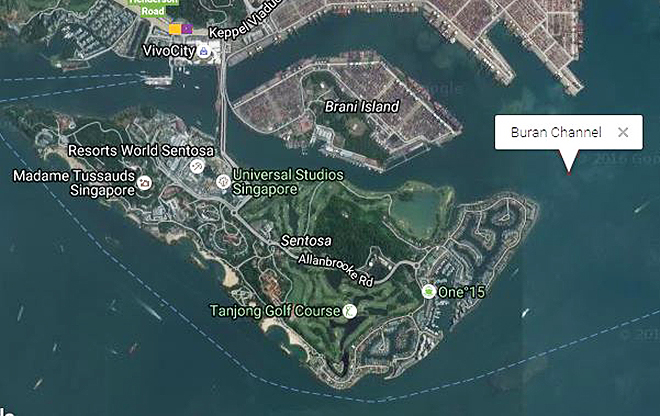 Speaking of strong waves, if you tend to get sea sick, pop a sea sickness pill prior to boarding. Alternatively, ginger pills are also available at the bar counter. Just ask.
The captain and crew welcomed us on board and showed us to the bar at the upper deck. Feeling peckish, I helped myself to the snacks and welcome drink, including this lovely champagne with brown sugar.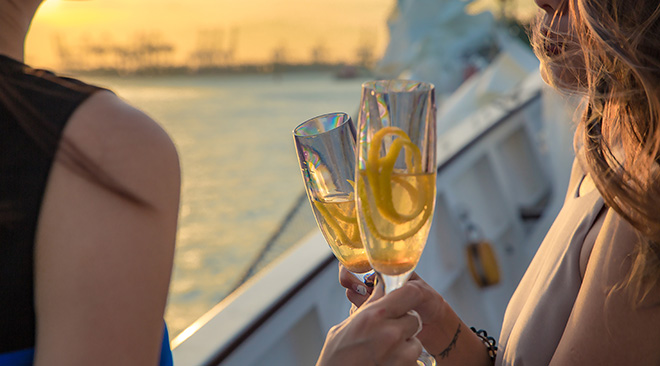 Champagne with sunset. Now that's life.
It's 6pm and the ship finally sailed off. With a champagne in hand, I strolled along the 34m long upper deck from stern to bow. There were photo opportunities at every turn, allowing me to take in never-before-seen views of Singapore with the golden cast of sunset. Like this one taken as we sailed by the waters of Sentosa.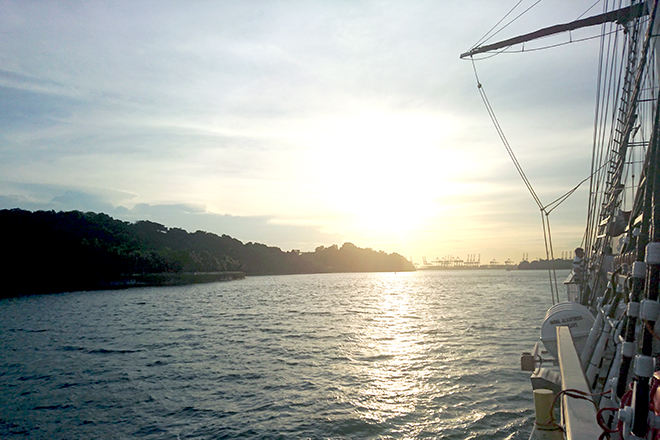 I spoke to Captain Duncan Maple who told me that the bow is the best photo spot on the ship. And that is where I captured this picture.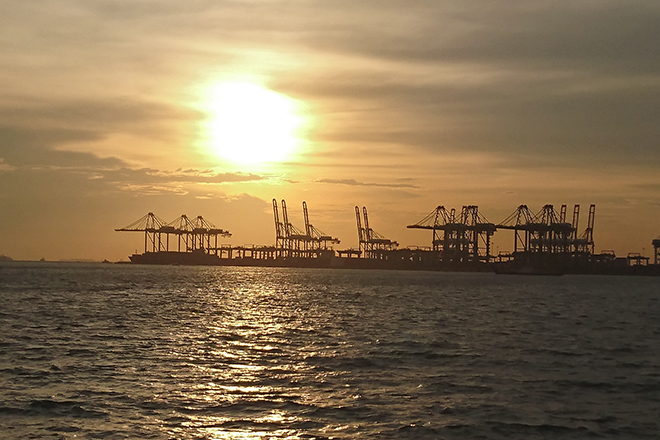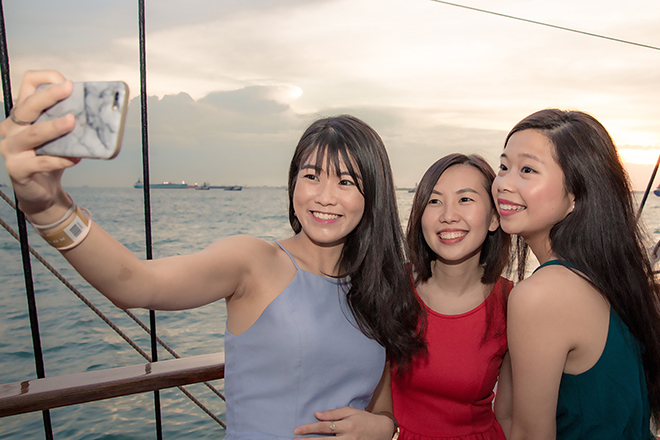 A native of South Africa, Captain Duncan has been helming the Royal Albatross for the past 16 months. Prior to that, he was the chief engineer of the ship for five years.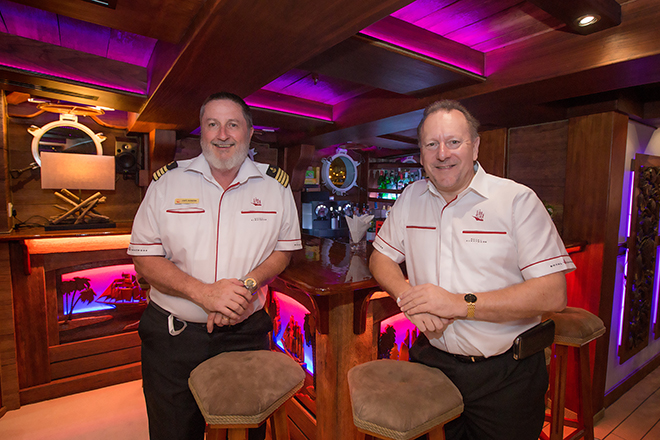 Captain Duncan Maple (left) with the owner of the ship Mr Peter Pela.
As Captain, he oversees pretty much everything, including giving guests permission to smoke (surprisingly, this is allowed).
"The fickle wind direction can cause the hot ash or cigarette butt to land in areas with flammable items. Hence always check with me first before you light up. Regardless, our crew is always looking out for the safety of our guests. Safety is our top priority," he said.
While the Royal Albatross is licensed to travel the world, it currently only covers regional routes, going as far as Langkawi, Phuket and northern Thailand. In this 2.5 hour sunset sail, we saw the ship sail around Sentosa island towards St John's Island before turning towards Marina Bay and back to Sentosa Island.
One hour into the cruise and it was time for the next phase of the programme – dinner was served.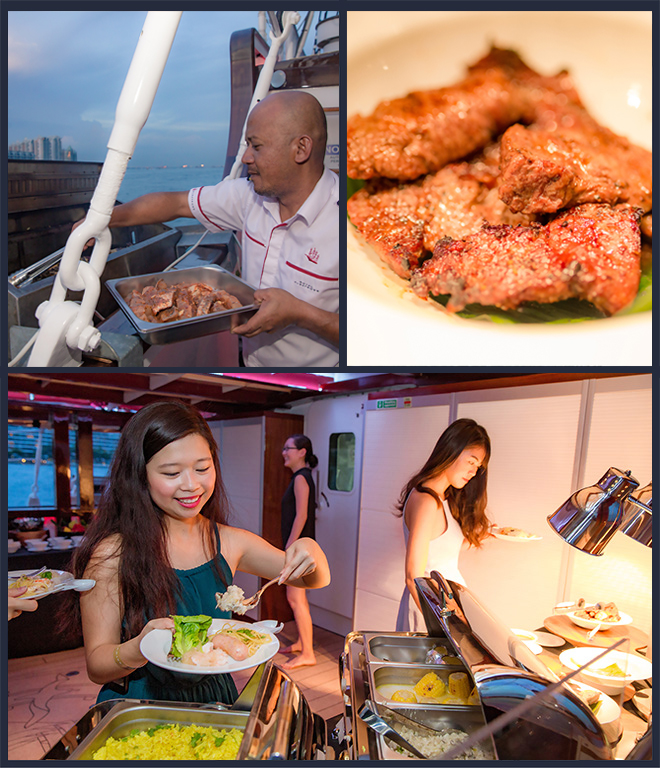 The barbecue buffet dinner (non-Halal) was a good mix of Asian and Western fare. While the spread may not be as extensive as what you get at restaurants, taste wise it was surprisingly good. My personal favourites were the spicy aglio olio, mushroom risotto and homemade sausages (tender and succulent with oozing cheese). Even better, all the barbecuing was done by the crew so no worries about grease and smoke.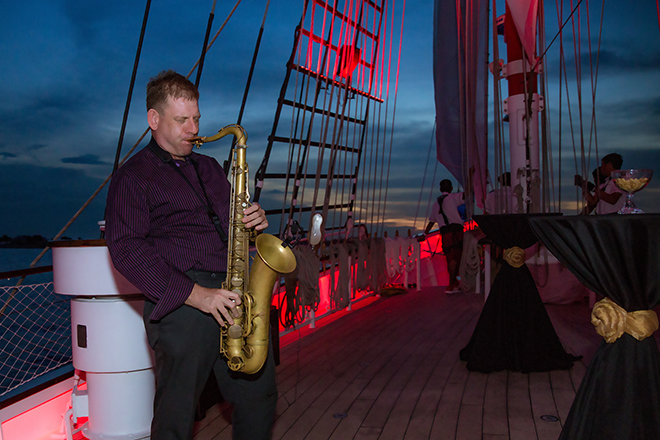 Flavour your dinner with some live saxophone beats.
For some post dinner drinks and chit chat, there is an air conditioned lounge on the middle deck which can seat up to 56 guests.
In case you're curious, there are also five en-suite cabins which can sleep up to ten people. But these are only available to guests on the overnight cruise or other private charters.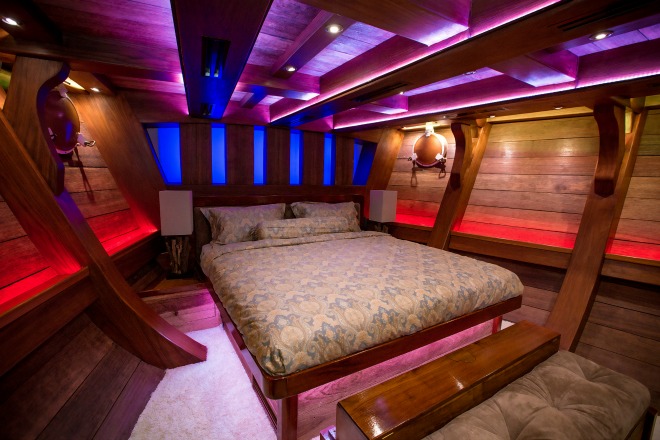 Just before the clock hits 8pm, be sure to return to the upper deck and look towards the beach. That is when the ship will reach the waters between Siloso Beach and Palawan Beach where the Wings of Time performance is held.
And here's the best way to enjoy this fabulous view.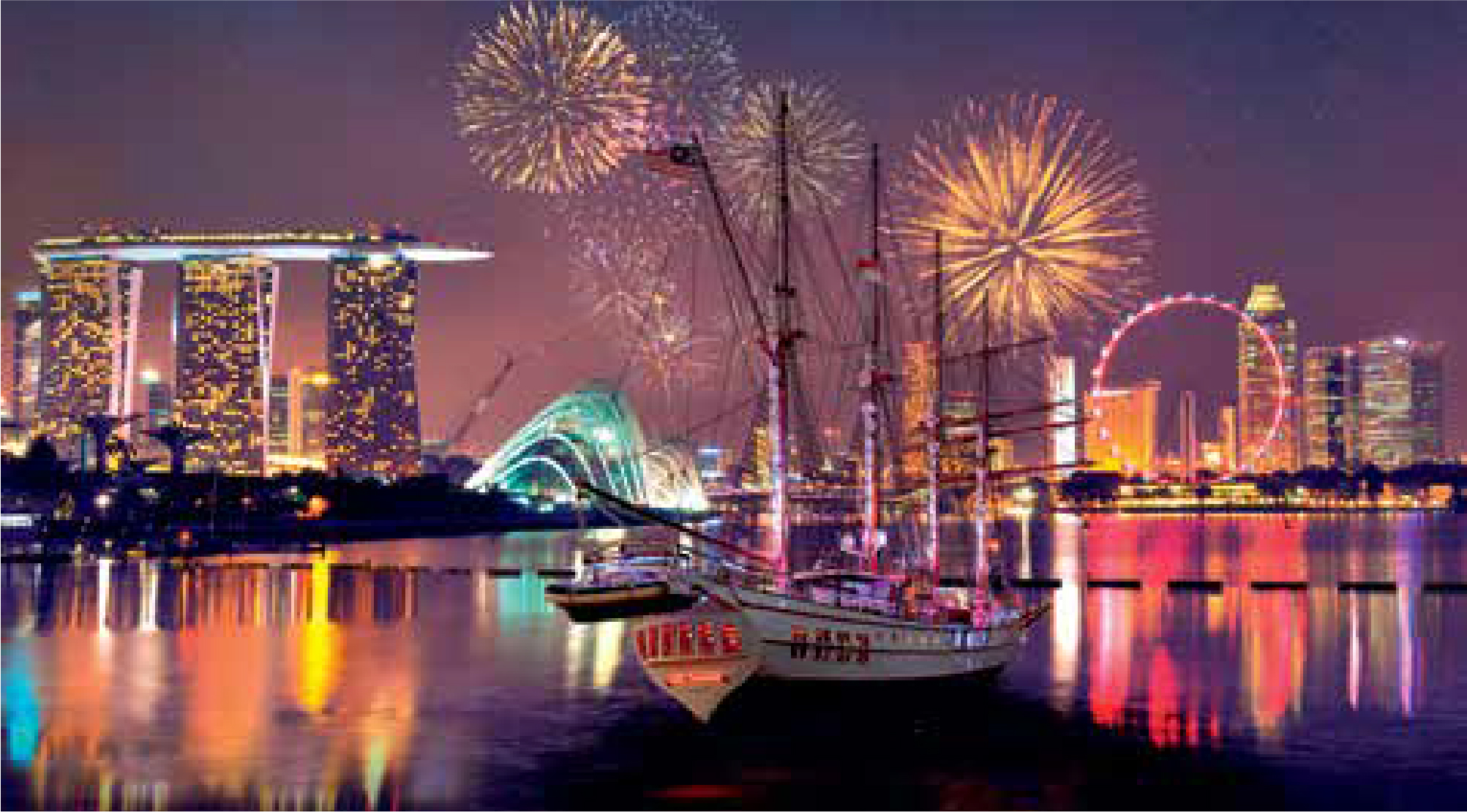 I really enjoyed this windy wine and dine experience. I get sea sick easily so I took a ginger pill before boarding fearing the worst. Surprisingly, the waters weren't all that choppy so I didn't feel nauseous.
This sunset sail is a much welcomed alternative to typical weekend evenings of movie-dinner-shopping. First of all, you're away from the maddening crowds. Secondly, you get to enjoy fresh cool breeze instead of ridiculously cold air-conditioning. Most importantly, the relaxing ambience is perfect for taking things slow and spending quality time with your friends or significant other. Plus you can still stay onboard after the ship has docked to party till late.
At S$195 per adult, you'll get a 2.5-hour leisurely trip partway round Singapore, complete with a buffet dinner, welcome drink and an experience not available elsewhere in Singapore. Worth considering especially if you're planning something memorable like a birthday treat, marriage proposal, hen's party or a corporate event to impress VIP clients.