Inspiring Weekend Brunch Locations that will have you in the best of moods
Weekends are usually the time we have to recharge and get ready for the week ahead. Finding that inspiring weekend brunch location in Singapore to enjoy your meal could just be the perfect kickstart your week and say HELLO to Mondays! Here are some of the locations that we found with breathtaking views and fantastic meals you can indulge in.
1. The Luxury Yachting Experience on a Tall Ship; The Royal Albatross
This one checks out all the boxes. The Royal Albatross is Asia's only luxury tall ship with 22 magnificent sails and 4 masts. Nothing beats having to sail out and have a deliciously served 3-course breakfast served hot to your table on a Sunday morning. Get stunning views of the Sentosa coast for 2.5 hrs where you can take great pictures of the horizon and the beautiful waters right there by your side. Truly inspiring and a highly recharging moment for people that love to be out at sea and breathing in the fresh sea breezes. Get out of the house with your special someone and get inspired. Fun for the whole family.
For $195 per pax. You will get to experience various themed menus cooked fresh onboard the ship; and a menu that will change from Sunday to Sunday. Get to try a traditional British Sunday Roast, or choose between an Italian or a Seafood Lunch Menu. Dates are open till June and these are Singapore Rediscovery Vouchers (SRV) redeemable.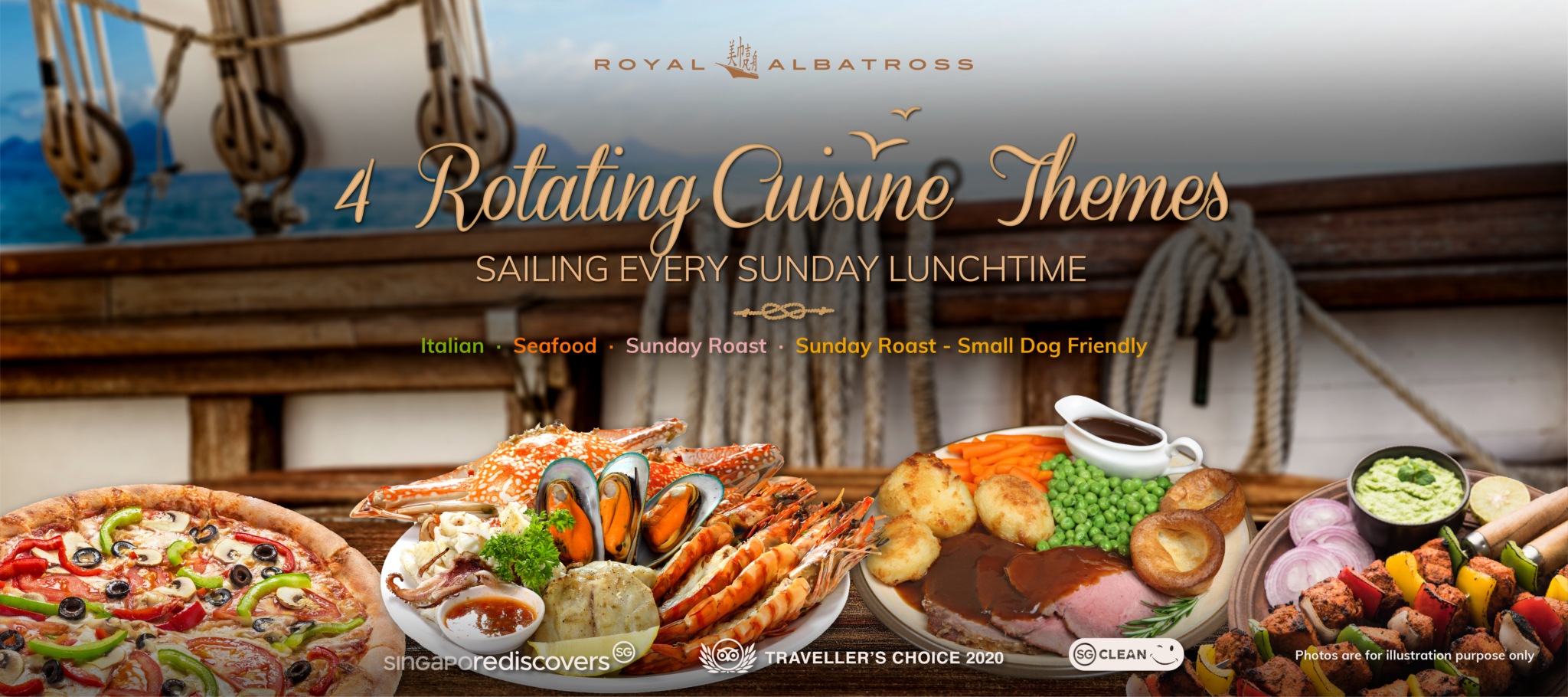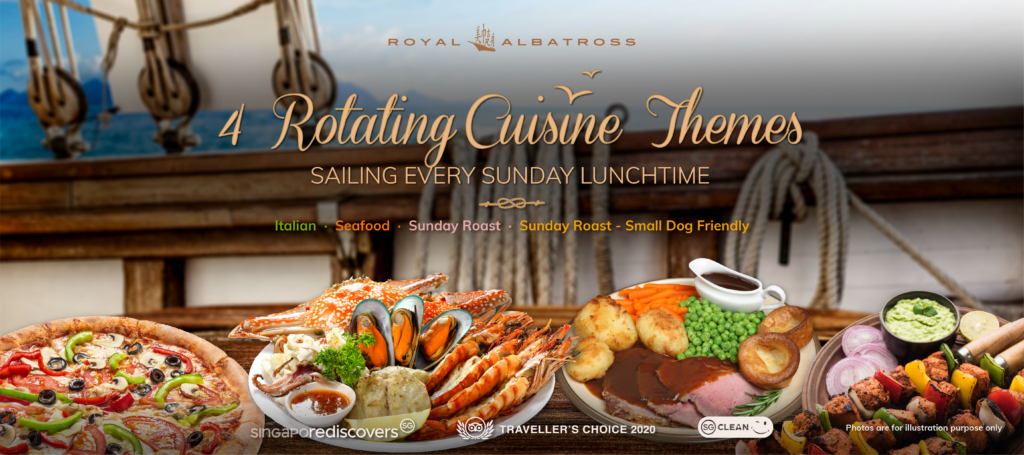 Plus, if you have a fur kid just waiting at home for you; why not just bring them along! The Royal Albatross has a special Sunday Lunch that they are launching that will allow small dogs for up to 10kg to sail and dine with you at the table.
2. Gold is not all that Glitters at Xperience at So
Look out for this monster 3-tiered feast branch tower that offers everything from sweet to savory delights. At $224 for two pax you can enjoy a free-flow alcohol option for two hours. In the feast expect a sweet treat at the top of the tower.
3. A spread that an Italian King will be proud of at Basilico.
If meats and cheeses are your thing then this is the weekend brunch for you. With dishes like grilled Angus beef, seafood, foie gras, and a cheese counter with over 30 different cheeses and a dessert counter at $83 per pax.
4. Bottomless; that's how we like it at Kinki.
Yes, you read it right. A bottomless buffet. Just get your mind out of the gutter for a sec and be treated to a dining experience that includes a Japanese faire of wagyu udon, ramen, sashimi, sushi, and even more sashimi. Priced at $68 per pax.
There's something for everyone, especially in Singapore. Whether it's a buffet that you are looking to fill up on or an experience that will lead you out to the open sea for stunning views and a served meal. You will be satisfied with the choices that we have selected here as our inspiring weekend brunch locations.
Also, if you are interested to book with the Royal Albatross please check our sailing schedule and our Sunday lunch menu at https://staging.tallship.com.sg/events/sunday-lunch-sail/. Use "SundayFunday" promotion code on checkout to enjoy 10% off on our Sunday Lunch sail this weekend till December 2021.