Finding the Most Romantic Dinner Places
Thinking of a night out on the town with your special someone, but want to make it extra memorable without paying over the odds? Well, we have compiled a quick guide on how you can find the best and most romantic dinner places like an expert.
1. Pick somewhere with a dress code that is smart casual.
Yes, it's still important to dress to impress; but romance doesn't mean formal, so there is no need to don a suit and tie. Some of the most romantic dinner venues are smart casual; allowing you to flaunt some style while feeling relaxed and not over-dressed. Walk-in a winner, like you own the place! Most people judge you not by how you look; but by how you conduct yourself. Plus; the more confident you are, the more you won't be worrying about how you look; leaving all your time to focus on what's most important – your date!
2. It's about the entire experience; not just the food!
If anyone says it's all about the food, then tell them that you can get an awesome meal at home! OK… that may not be strictly true since not everyone has a Gordon Ramsey waiting in their kitchen; but if you are taking a date out for a meal, it's also important to realize that the ambiance and vibe of the place are what will put you both in the mood. And what you'll remember most! Then there's the service… there's nothing more frustrating than tardy service or staff with attitude – no matter how good the food. Of course, you both should expect to be treated like VIP's – why should you expect anything less when you're trying to impress? The perfect meal is an experience and a well-balanced combination of the food, ambiance, vibe, and service.
3. So how to find the most romantic dinner places – check out the reviews?
Yes, but can you tell the fake from the authentic ones? This is important, as you can easily be duped. While scouting around for a place to spend your hard-earned cash, check out the reviews; but also the reviewers and if the establishment cares enough to reply to each reviewer. If they don't, is that a reflection that they are all talk but don't listen? And is the latest dining place in town receiving a lot of 5-star reviews from people who only had made 1 review? Finally on this, make sure the major review platforms such as Trip Advisor, Facebook, and Google all roughly reflect the same rating. Otherwise, it could indicate it's more than your meal that smells fishy! Looking for genuine and consistent reviews is one sure way to ensure that the place you've selected is most likely to meet your expectations.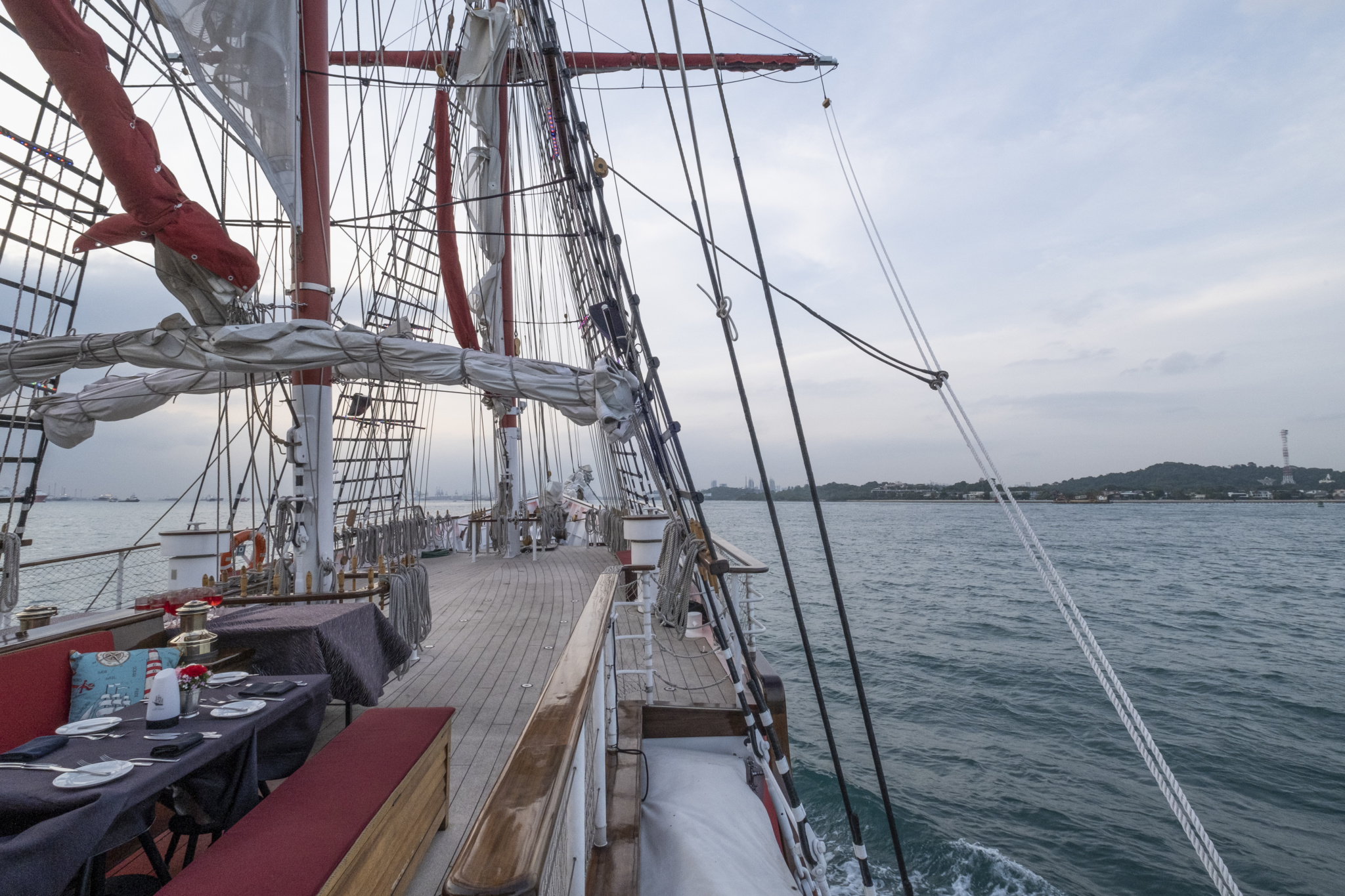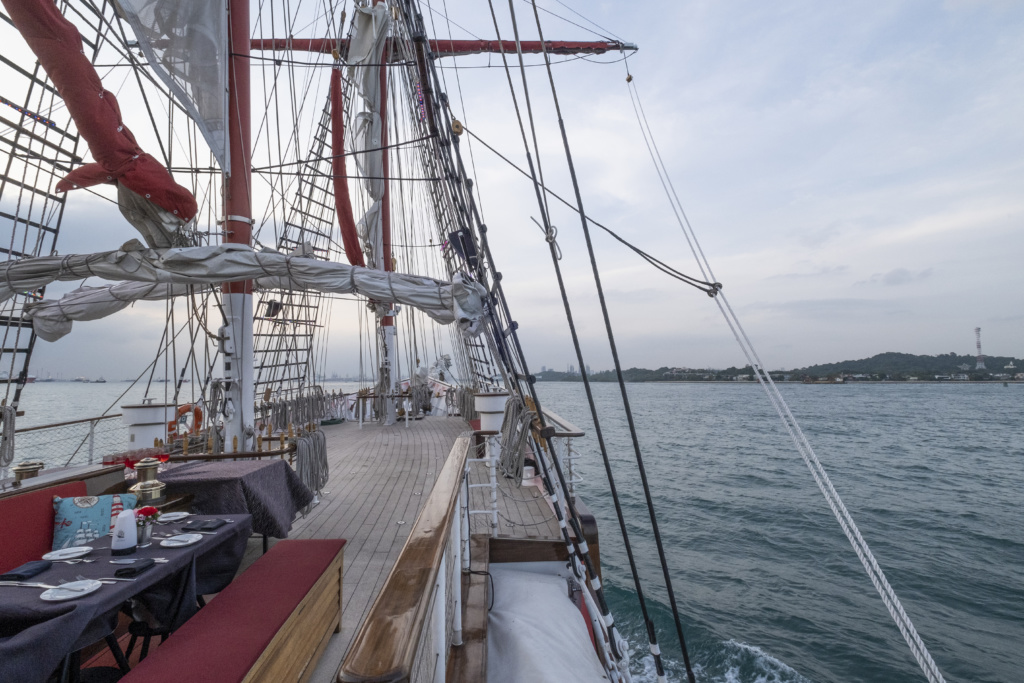 One very special venue that ticks all the boxes is Luxury Tall Ship – the Royal Albatross. Not only is it a fabulous place to eat, but it is also an unforgettable dining experience. After all, how often do you even see a tall ship, let alone sail and dine on one? Royal Albatross' upper deck outdoor seating with panoramic views guarantees fresh sea breezes and a genuine romantic ambiance under her 4 tall masts, 22 sails, and over 200 working ropes. The vibe is also unique – a beautifully crafted recipe of a traditional sailing ship, hidden mood lighting everywhere, the sea environment, and romantic music played at just the right level. A vibe that you will never forget!
The Royal Albatross also has one of the best service crew teams in Singapore as her reviews consistently point out. The food comes from Halal certified suppliers and is freshly prepared daily onboard in the ship's galley by the chef's – then served directly to your own personal table. 3 and 6-course menus are available with wine pairing. With nearly 1,000 reviews from people just like you, it's no surprise that the Royal Albatross has won Trip Advisor's Traveler's Choice award for 2020 making her one of the top global attractions worldwide. If you are looking for a special venue, for a special person, the Royal Albatross is a unique dining experience onboard a beautiful traditionally rigged sailing ship, filled with romance, ambiance, and vibe. No wonder she is one of the region's most romantic dining experiences and top proposal venues.
To us, this is what it takes to be at the top of Singapore's most romantic dinner places.
Remember to make your reservations in advance. To book and or check our sailing schedule, please visit: https://staging.tallship.com.sg/sailing-schedule/