5 EXCITING THINGS TO DO IN SINGAPORE FOR COUPLES
Singapore can present an irresistible number of fun activities for thrill-seeking couples on any given day. For fairly new couples, it may seem like you'll never run out of exciting, fresh experiences to bond over. But for couples who have been together for a while, the last thing you want to do is to binge-watch Netflix on your next date night. Whether you're looking for unique ways to shake off first-date jitters, or simply to reinvent the dating routine and spark things up, here are 5 exciting things to do in Singapore that get you fun quality time with your significant other.
1.UNLEASH YOUR INNER ADRENALINE JUNKIE
Why not seriously turn up the heat, get both hearts racing and spend your date on a karting circuit. It's a fun and energetic activity that doesn't take itself too seriously which helps you both just be yourselves. It can be as casual or as sporty as you want it to be. The Karting Arena (Bukit Timah) or KF1 Arena (Upper Jurong) are your best options for karting in the city that deliver a real-life racing experience you'll love.
2.DINE UNDER THE STARS
Without a doubt, your most unforgettable date night is an evening onboard Singapore's iconic and largest super yacht Royal Albatross. You'll both have all the spectacle you can handle for one night at this beautifully illuminated, majestic tall ship.
Watch the city's glittering skyline slowly light up behind you while you tuck into a sumptuous 3-course dinner as a soulful live music plays in the background. An iconic attraction in Singapore, the Royal Albatross takes you along the southern coastline for an unparalleled view of the stunning city and Marina Bay skyline at night. Sounds like a night to remember? This unique dining experience is a total must on your Couples Bucket List.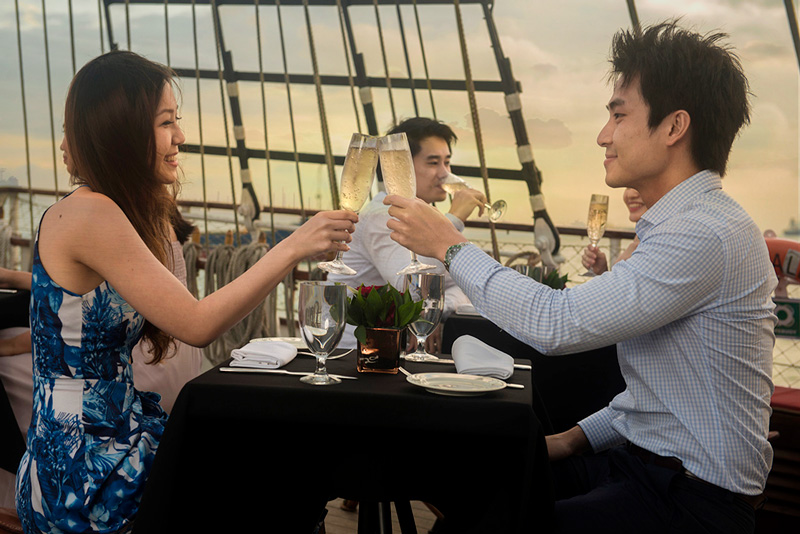 3.WALK ON WATER OR SOAR ABOVE IT
Nothing throws predictability out the window quite like this gravity defying adventure in Ola Beach Club, Sentosa. The Jetblade and Jetpack rides are water-propelled beasts that can soar you up in the air in no time. You don't need to have excellent swimming skills to try these activities. All you need to do is to conquer your fear. You might look a little silly turning and learning to balance on your own. But you know what? That's endearing. You and your partner should definitely try these ultimate water sports activities. You'll bring out each other's adventurous side, which is the perfect atmosphere for a lasting romance.
4.BRING YOUR FANTASIES TO LIFE
Your best excuse to escape from reality is to step into a new reality. Team up with your partner to battle against an army of zombies complete with cheesy dialogue and plot, through a fully immersive virtual reality experience. There's a high chance you won't survive a whole load of zombie action, which will inevitably have you working closely together with your date,but the fun you two had in the process is what it's all about. Try your skills at the most innovative VR arcades in Singapore: Virtual Room, Sandbox and V-Room.
5.GLOW WITH THE FLOW AND GET THE MOST STRIKES
A little friendly competition is always a good way to have fun on a date and cosmic bowling can bring that out. Strike those bowling pins on glow-in-the-dark alleys, under disco lights and heart-thumping music – an interesting upgrade from your regular bowling experience. Cosmic bowling is available in several Orchid Bowl outlets across Singapore 
KEEP CREATING NEW MEMORIES
Whether you have been together for one week or forty years, take your traditional dating game to the next level and continue to have exciting weekends with your partner.  Get out there, do something out of the box to keep that spark alive and most of all, have fun!