10 THINGS TO DO IN SINGAPORE ON YOUR FIRST VISIT
Everybody vacations differently. Whether you're looking to get outside, learn a little more about the culture, or an aspiring shutterbug, there's a perfect spot for you in our list that is guaranteed to capture your heart. Take a look at some of the most amazing cant-miss experiences and things to do in Singapore during your first visit. You've got to add these to your itinerary!
1. POP INTO A MUSEUM
If your idea of a good time is enriching your mind about the place you're visiting while getting an art fix, you can begin with a humble trip to the museums.
National Museum of Singapore
Previously known as the Singapore History Museum, the National Museum of Singapore is the oldest museum in the city dating back to 1849. The building itself is an architectural icon with its elegant neo-classical structure and Victorian style glass patterns. Step inside and you'll discover visually arresting, state-of-the-art multimedia exhibits that bring Singapore's history to life in a very captivating way.
ArtScience Museum
A cathedral to art and science, this museum is a marvelous landmark drawing art lovers since it opened in 2011. Its unique architecture shaped like a blossoming lotus flower is a work of art in itself. Inside, you'll be left in awe with its cutting-edge, interactive modern art installations and enchanting digital playground artistically curated to enthuse young minds about science, art and story-telling.
Singapore is home to more than 50 museums hosting an impressive collection of Southeast Asian artefacts and some of the most famous exhibitions in the world. A good plan is to visit no more than two museums in one day.
2. EAT BREAKFAST WITH ORANGUTANS
Singapore Zoo
If it's been a while since you've visited a zoo, you're sure to feel like this is the first time. This massive nature enclosure and world-famous "open concept" zoo is home to more than 300 species in myriad exhibits and 11 eco-zones plus offers one of the most unforgettable experiences – Breakfast with Orangutans. A terrific way to start the most important meal of your day!
3. DINE UNDER THE STARS, ABOARD A TALL SHIP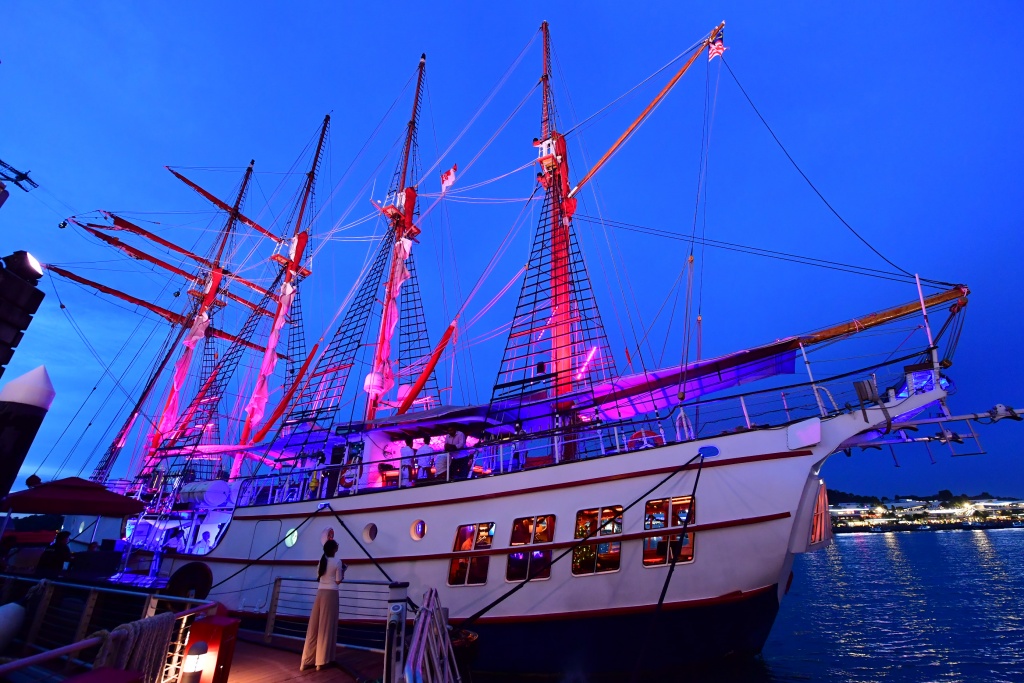 Royal Albatross
Savor an evening of dinner, drinks and live music! A city with a skyline as beautiful as Singapore is best viewed from the water onboard the region's only luxury tall ship. An iconic attraction in Singapore, the Royal Albatross takes you around the breathtaking, panoramic view of the city while you enjoy a cozy ambiance on board. You can even climb a mast for magnificent view of the harbour in all its majesty silhouetted against the Singapore skyline.
You are guaranteed to have an awesome time, be sure to book in advance here -> Dinner Cruise Royal Albatross
4. NAB A COLORFUL SHOT FOR THE 'GRAM
Haji Lane
The hipster streets of Haji Lane are no stranger to the camera and Instagram feeds. Vibrant sky-high art and graffiti adorn the walls of its quirky shop houses owned by local and international designers. There's a whole ton of street art in this epicenter of Indie culture in Singapore that you could get lost in.
Photo Credit: www.digitalkaleidoscope.in
Old Hill Street Police Station
It's not often that a police station manages to be something more than just a police building. The Old Hill Street Police Station which is now used as office space is admired for its rainbow-hued louvred windows making this spot an Instagram backdrop favorite.
5. EXPERIENCE THE BIG SCREEN MAGIC
Universal Studios Singapore
It doesn't matter how old you are, a trip to USS will transport you to an entirely different world with plenty of opportunities for a good time. Be whisked away to places of imagination from the heart-thumping encounter with mummies on an indoor high speed roller coaster, thrilling Transformers ride to coming face-to-face with a Velociraptor! If you survive, try to snap a picture with the T-Rex.
6. SURRENDER TO THE SIGHTS AND SOUNDS OF NATURE
Gardens by The Bay
A sustainable garden oasis in the midst of the city center teeming with spectacles and breathtaking supertrees to top your eco-tourist destination bucket list. Discover a wide variety of plants you might not see otherwise and gain inspiration for your home garden too. Complete your trip by visiting their two cooled conservatories, the Cloud Forest where you'll encounter a stunning 35-metres tall indoor waterfall covered in lush vegetation and the vast Flower Dome that replicates dry Mediterranean climates. Each evening, you can also enjoy a dazzling light show around the Supertree Grove where the towering trees come alive with glistening lights resembling something out of the movie Avatar.
7. GET A DOSE OF CHINATOWN
Can you think of a more enjoyable way to shed weight? Easily accessible and budget-friendly as you please, a stroll around the temples and heritage sites in Chinatown is an engaging way to spend an afternoon. Art and culture enthusiasts should pay visit to some of the star attractions like Chinatown Heritage Centre, Sri Mariamman Temple, Buddha Tooth Relic Temple and Thian Hock Keng Temple. Make sure to grab some souvenirs as you pass through the street markets to commemorate your trip to Singapore.
8. INDULGE ON TRADITIONAL DISHES
Don't worry about going hungry from all that walking because the island has diverse culinary offerings coming from a delicious blend of Chinese, Malay, Indian and Indonesian cuisine influences. No vacation to this tiny island is complete without trying the city's absolute "must-eat" such as Hainanese Chicken Rice, Chilli Crab, Laksa, Roti Prata and Bak Kut Teh which you can easily find in most hawker centres across the city. To get to heart of a culture, you've got to start with the stomach!
9. SAY HELLO TO MERLION

Merlion Park
If it's your first time in the Lion City you'll definitely want to see the Singapore icon that is half-fish and half-lion at the Merlion Park in the heart of the Central Business District. Yes, this area can get touristy, drawing tons of people to its powerful spray. So, if you want to catch the Merlion's first release of water-spout, go to the park before 7AM. From the bridges around Merlion statue, you'll also enjoy the beautiful views of famous picturesque sights such as the Esplanade, Marina Bay Sands, the Helix and Singapore Flyer that are all beautifully illuminated at night.
10. HIT THE BREEZY BEACHES OF SENTOSA
The man made island of Sentosa has several beaches to choose from with a plethora of activities if you're looking for more excitement than just beach-bumming. Fans of surf, party and sand will want to head to Tanjong Beach hidden in the south coast of Sentosa. Palawan beach has a family friendly vibe, whereas Siloso is the island's most bustling stretch. However you choose to spend your day here, Sentosa island has all the essential ingredients to make for a memorable vacation.
And there you go! We have you covered with some of the most interesting activities and favorite spots to help you plan the perfect trip to Singapore. This glorious country has it all. Go ahead and book that flight.